Challenge:
"A test of one's abilities (or resources) in a demanding but stimulating undertaking."
We all set ourselves challenges from time to time, and whether they be big (running a marathon) or small (getting out of bed in the morning), they all contribute to the overall goals we are working towards, whatever they might be.
Goal:
"The purpose to which an endeavour is directed."
I found myself thinking about challenges this week after discovering, and taking part in the October Yoga Challenge started by Grow Soul Beautiful. The goal behind the challenge was to inspire and encourage others to do yoga and photography – and it definitely seems to be working! There are hundreds of people now tagging photographs of yoga poses with #YogaADay and connecting via @growsoulbeautiful!

Two poses from the challenge are pictured above, which are both great for runners. Day 19 (top pic) is Navasana/ Boat Pose, good for building strength in the core and hip flexors, but also for lengthening the hamstrings (bend knees if hamstrings are tight – same effect); Day 18 (bottom pic) is a variation of Setu Bandhasana/ Bridge Pose, a complex pose but great for building strength and lengthening the spinal muscles.
The great thing about challenges is that they act as stepping stones towards our goals – and if we can meet and interact with others doing the same, or similar challenges, then the work is shared and the joys are doubled. And what we learn in the process is priceless! Taking part in the Grow Soul Beautiful yoga challenge has provided extra impetus for me to include a wider range of poses in my practice, and also photographs are an excellent way to check posture and alignment.
This weekend sees the Peacock 50k and 100k ultra running events taking place on Oahu. I set myself the goal of taking part in this event months ago, and the HURT trails runs throughout the summer were definite challenges along the way. However things have not gone quite to plan in the last few months in terms of preparation, but thankfully a wonderful friend from the running community (Toney – check out her website HERE) and I have decided to support each other and run together. The route is reputedly unforgiving with no shade and lots of hills, but I'm actually looking forward to it! I will try and tweet a few updates as we go – but watch this space for a full report next week.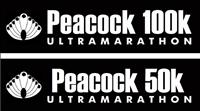 At Yoga-for-Runners on Monday we challenged our glute muscles – firing them up in a variety of poses to build strength. We were pleased to see our Twin Cities marathon runner back in class, who reported that the course from Minneapolis to Saint Paul was stunningly beautiful, lined with tall trees in all their fall glory along the way. With plenty of crowd support it definitely sounds like a bucket-list marathon.
On a final note, if you're ever looking for something really challenging how about motorcycle yoga? As reported by Yoga Dork, the Guinness World Record held by Yogaraj C P of India, for most consecutive yoga positions whilst driving a motorcycle was set on February 17, 2011. Yogaraj only managed 23 poses in a row… what are you waiting for?
Happy Trails!